Call for papers
The VisGuides 2018 Workshop calls for submissions about Creation, Curation, Critique and Conditioning of Principles and Guidelines in Visualization. The ever-increasing global awareness, practise, and teaching of information and data visualization includes a growing audience of consumers and creators. We, as a scientific community must put careful emphasis on the collection and curation of knowledge in the area. The goal of this workshop is to discuss and consolidate guidelines, best practices, controversies, and success stories in the field of information visualization.
Submit your work and be part of a vibrant one-day workshop that will bring together an exciting programme with internationally renowned keynote speakers and panel discussions.
Accepted Papers
Topics and Scope
The focus of this workshop is placed on a fundamental aspect: the need of a unified theoretical foundation or framework for underpinning all four components of creation, curation, critique and conditioning of design guidelines and principles for visualization and visual analytics. The challenge includes:
Survey well-known principles or guideline; where they are applicable and when and where it is not, as well as examples for attesting either conditions,
Discuss principles, guidelines, recommendations, based on the presented evidence (including examples of their uses and misuses), critique (including revision and improvement) and conditioning (i.e., education, training, and deployment) compiling the lessons learned from the usage of those guidelines with an impact beyond the scientific visualization community.
Schedule
The workshop will be on Monday October 22, 2018.
Keynote speaker
Formulating a Colorization Guide for VIS
We formulate a Colorization Guide for VIS in this presentation. First, we examine how to navigate thorough color selections by realizing that (a) Color Models either add or subtract; (b) Color Wheels spin and specify Color Harmony: and (c) Human Color Perception is imperfect. From there, we propose a five- step process for building and implementing color schemes in VIS. We then demonstrate this process by working with online or mobile Color Apps to build Information Visualization and Scientific Visualization examples.
About Theresa-Marie Rhyne
Theresa-Marie Rhyne is the author of the professional reference entitled "Applying Color Theory to Digital Media and Visualization". She also serves as the Editor of the Visualization Viewpoints Department in IEEE Computer Graphics & Applications magazine. She was the founding visualization expert at the United States Environmental Protection Agency's Scientific Visualization Center in the 1990s and directed the Center for Visualization and Analytics and the Renaissance Computing Institute's Engagement Facility at North Carolina State University in the 2000s. Since 2010, she has consulted with the Stanford University Visualization Group on a color suggestion prototype system, the Center for Visualization at the University of California at Davis and the Scientific Computing and Imaging Institute at the University of Utah on applying color theory to ensemble data visualization. Her recent research involves developing color harmony methods for the Munsell Color System. This keynote presentation is a reflection of her personal experiences over many years in the field of VIS.
Submission Info
Authors are invited to submit original and unpublished short papers up to 4 pages (including references) that present innovative ideas, discourses, design concepts, empirical studies, theoretical frameworks, social models, and work-in-progress in the context of principles and guidelines in visualization and visual analytics. The topics of these presentations may include but not limited to the followings:
Discussion of known guidelines in the visualization discipline.
Comparative analysis of several guidelines for a visual representation.
Debate Mechanisms from Social Sciences.
Discourse Models for Computer Science.
Requirements and gap analysis of principles and guidelines for one or more visualization tasks (or application domains).
Evidence-based critique of a principle or guideline.
Case studies of a principle/guideline in relation to a task, a visual design, and a group of users.
New principle or guideline, or a major revision of an existing one.
Mechanisms for curating principles and guidelines.
Framework for critique of principles and guidelines.
Mechanism for disseminating and deployment of established principles and guidelines.
Discourse on long-term sustainable mechanism(s) for Creation, Curation, Critique and Conditioning activities.
Discourse on the relationships and transformation between principles and guidelines and other theoretical aspects, such as taxonomies, conceptual frameworks and models, and quantitative laws.
Submissions can be of any length from 2 to 4 pages in standard IEEE TVCG format (conference), in proportion to the contribution: work-in-progress, latest breaking news, or mature research.
| | |
| --- | --- |
| Paper Submission deadline: | updated: July 23rd (Monday), 2018 (midnight PDT) |
| Notification: | updated: August 14, 2018 (Tuesday) |
| Camera ready: | UPDATED August 24, 2018 |
| Paper format: | UPDATED IEEE VIS conference style |
| Submission length: | 2 - 4 pages (including references) |
| Submission website: | https://easychair.org/conferences/?conf=visguides2018 |
| Review Process: | 2-3 peer reviews each. Single-blind mandatory, double-blind optional. |
| Presentation: | ~10 minutes at Workshop (depending on paper length). |
| Registration: | Participants must be registered at for the specific day at the VIS conference. |
Guideline Reports
As a possible submission template to the workshop, we are proposing the novel format of a Guideline Report: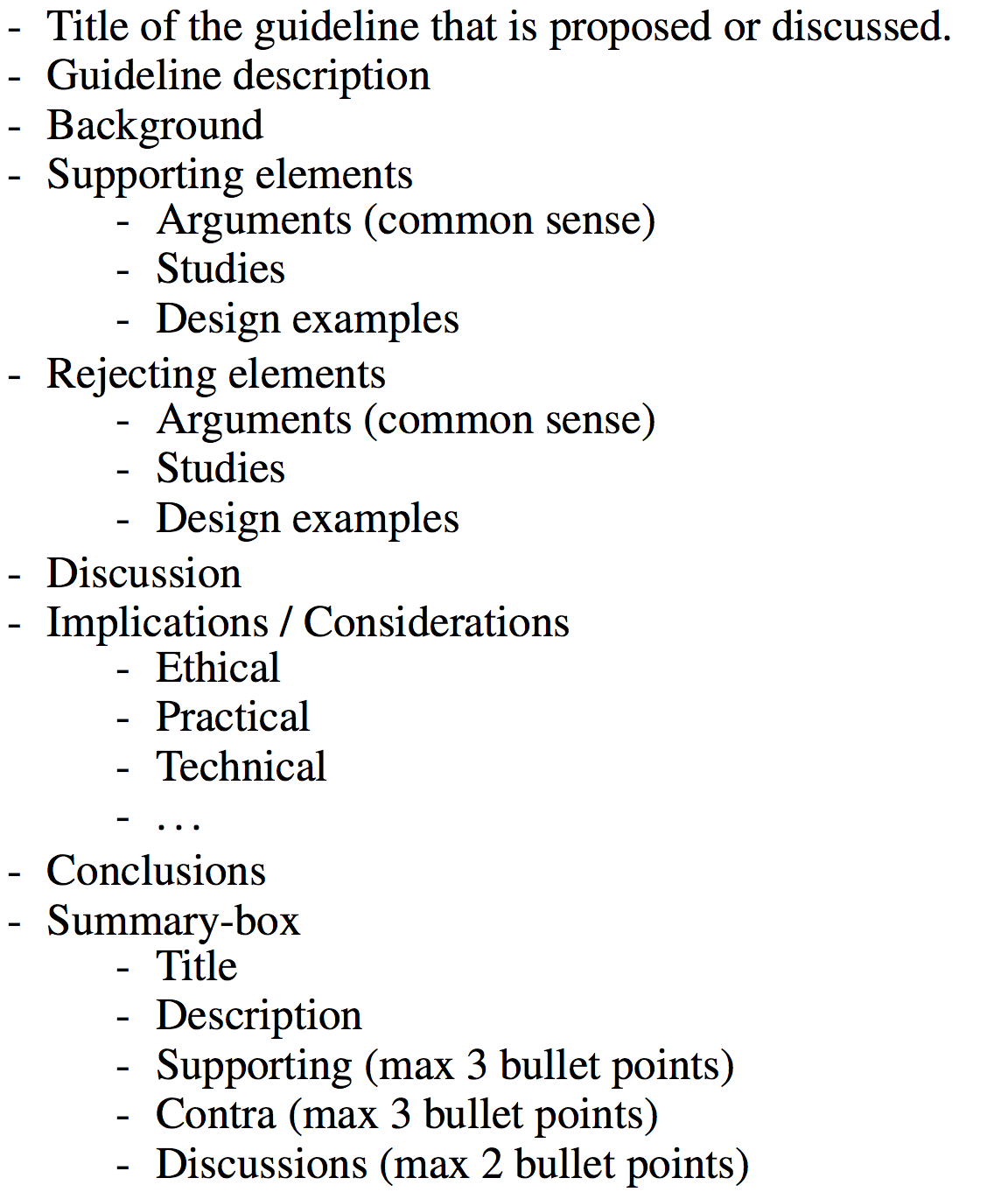 Publication
All accepted short papers will be published online, accessible to the public, at a website dedicated to the workshop. We will follow the Short position statements / work in progress notes stategy, outlines at the IEEE VIS Website: http://ieeevis.org/year/2018/info/call-participation/workshops. This means, that papers will be published through the workshop with a DOI and on the conference USB key. Papers are considered published but not archival. They can hence be resubmitted to any IEEE VIS conference in the future.
PC Members
Eduard Groeller, Vienna University of Technology
Kelly Gaither, University of Texas at Austin
Charles Perin, City, University of London
Mennatallah El-Assady
Nadia Boukhelifa, INRA
Rita Borgo, King's College London
Daniel Archambault, Swansea University
Michael Sedlmair, Jacobs University
Robert S. Laramee, Swansea University
Eser Kandogan, IBM
Ulrich Engelke, CSIRO
Robert Kosara, Tableau Software
Bongshin Lee, Microsoft
Kresimir Matkovic, VRVis Research Center
Gordon Kindlmann, University of Chicago
Chris Weaver, University of Oklahoma
Advisory Board
Min Chen, University of Oxford, UK
Daniel Keim, University of Konstanz, DE
Melanie Tory, Tableau Research, USA
Community
Below we list groups and projects interested and/or working on guidelines; feel free to contact them. If you want to be listed below as well, email us your tag:
My description with a link and another link
Privacy Notice Datenschutzinformationen Imprint/Impressum (EN/DE)